Push play to hear Peter Work of Ampelos Cellars boutique wines share the conscious attention to detail in growing wine, wine making and being good stewards of the land.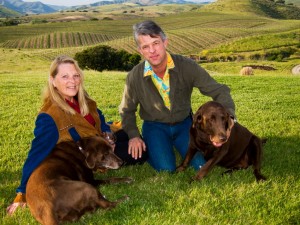 Ampelos Cellars is one of the first vineyards in all of the US to be certified biodynamic, organic and have sustainability in practice. Their practice of asking, "What can I do even better?" leads to a set of fine wines that not only utilize organic grapes but also are discovering new natural methods in the wine-making process. Listen above to learn the specifics of their biodynamic, organic, sustainable practices.
Due to the fully organic and natural biodynamic farming methods, the natural yeast indigenous to the grapes, the terroire and Santa Rita Hills appellation, remains on the grapes so that additional yeast is not needed in the fermentation process. The resulting wine has a beautiful nose, flavor profile and integrity. To taste the wines for yourself, visit the wine ghetto in Lompoc on the Central Coast of California, or join their Filos wine club.
Ampelos's attention to detail and maintaining a negative carbon footprint includes everything from solar energy to using natural stoppage (corks) for the wines, lighter weight glass to save on transportation energy, finding recycled glass and paper for the wine bottles and labels, bio-diesel trucks, natural cleaning products and an overall natural, holistic lifestyle. Ampelos Cellars is a beautiful example of socially conscious living and being good stewards for the earth both in business and in living.
Enjoy their wines knowing they are contributing to a better planet. "Like" the Ampelos Cellars Facebook page, too.