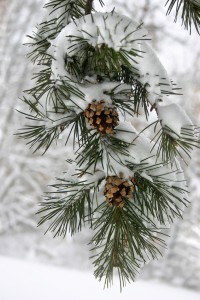 My gift to you this season is a marketing plan template. What better gift than customers for the holidays no matter what your business! Plus, if you don't have the time to implement it, I'll do it for you for less than half of our regular packaged prices. (Read this through to the end to see.)
Regardless of the types of marketing strategies: product, brand, pricing marketing strategy, e-marketing strategy, marketing communications strategy, or you just want marketing strategy consulting, having a Marketing Plan Template, or campaign design, is the foundation for success.
The marketing plan template we are giving away is based on the Internet for good reason. The Internet is a force that cannot be ignored by small business any longer. Surveys have proven that people search the Internet before making a purchase. Local search has grown exponentially to the point where Google has introduced a new algorithm that automatically shows local results for search terms.
Before people go to the stores this holiday season, people are on the Internet making decisions. This is important even to businesses not focused on selling for the holidays. Why? Because you have more opportunity to capture their attention now while they're online even more than usual.
The Internet provides targeted and inexpensive marketing methods. This is good for small business. It may be a new and, for some, a scary unknown marketing method, but it's increasingly important for business survival.
That's where a marketing plan template is important, and, if you're too busy, marketing strategy consulting too. Our business is to help you succeed in the most cost-effective way possible.
We specialize in lower marketing ROI. Lowering your investment while increasing the return is what we're about. This marketing plan template takes that into account. It includes the primary marketing communications tools for any business:

Advertising – there is a FREE method available online that gets traffic and is unique
PR – online press releases optimized to get traffic to your doors.
Direct campaign – Email for those who cannot afford direct mail, both for those who can. Following up by phone, either mobile text or in person, is a great way to help close the deal.
Special, limited time promotions to establish urgency and a call to action now.
Online Classified Advertising
Very few businesses understand how to use Craigslist or BackPage as an effective advertising tool. Most who take the time rely on text ads that are like every other ad in the list. Plus most businesses rely on keeping their ad at the top by re-entering it every few days. This is NOT how to use Craigslist or BackPage.
INSTEAD, rely on keyword search terms that have been carefully researched to balance the volume of searches with the competing pages on the Internet optimized for that term. Using "Long Tail Keyword Phrases" more finely target your customer while minimizing the hoards of competitors.
Google's Keyword Tool helps, and it's free, but it is not complete because it does not give an easy way to determine competition for that phrase. The "competition" column is based on adwords (Google's side column Pay Per Click advertisers), which can be an indicator, but only a very rough one. It does not take into account the websites that have accomplished first page ranking for organic search. Those are the real competitors for your message.
This is where strategic marketing consulting is handy. We have the tools and can quickly determine the best and most productive keyword phrases for your business.
Having the right keyword phrases then allows an "image ad" to be created and optimized to show up when people search for that term in the search engines. You no longer have to worry about the date you placed the ad. It simply doesn't matter. People go directly to your ad from the search engines.
Design the ad so you have pictures and promotional coupons for people to print out and buttons to click that take people to your special, promotional website page. You may not have a website yet, and that's OK. You can take them to your Facebook Fan Page. Oops? No Fan Page…that's OK for now, too, although that should be resolved soon. Facebook is literally taking over the Internet, but that's a discussion for another day.
There are tricks to doing all of this, and you can research it on YouTube to get direction as to how to do it. It does take some time and understanding of the various tools, but it is fairly easy to learn if you have the time to dedicate to it.
Public Relations
Press releases should be written in threes (3s). Why? Because, like advertising, multiple exposure helps capture attention, and the 3-prong approach works. Here's how the series of three should go:
Introduce what is GOING to happen, where, when, why and how to participate.
Tell what IS happening now.
Give the results of what happened and how it benefited those who participated.
Once again, press releases must be keyword optimized. In your keyword research, it's good to choose the long-tail keyword phrases (no more than 3) that you want to optimize for this specific campaign, including the advertising. The campaign, or marketing plan template, is targeted to the same people for the same purpose with the same message.
Depending on your distribution strategy, online press release distribution costs from $20 to $200 a release. Review PRWeb and WebWire to see the options available. Google loves press releases and will rank them faster on page one when optimized correctly than other competing web pages. It's worth the expense.
Direct Campaign
Email is an inexpensive way to do direct mail. However, both are more powerful together if you can afford to print the materials and either apply postage yourself or have a mailing service do it for you. It depends on the volume and your resources.
Regardless, both email and direct mail should make a call to action that reflects the marketing plan template or campaign – the same message, the same audience, the same call to action, the same special promotions. Hopefully, you've been capturing your customers' email addresses. Now is the time to use them. You don't have to spam, especially if this is a well-planned part of the whole campaign. The design is for the same people to be exposed to your ads, your press releases and your emails. Send at least one email a week during the campaign.
Autoresponders like AWeber help automate email campaigns. They also have a lot of training information on how to do campaigns. Review their website for more information.
Promotions
Using a strong call to action is important for any marketing plan template (campaign). Decide what you're willing to give of value for this season to your customers for repeat business and prospective customers to gain their trust and new business. Is it a discount for a limited time, something free, a contest? Be creative to differentiate yourself from others. Make it compelling – something you wouldn't always do, and something that makes them take action now.
These are the basic marketing plan template components to generate leads and customers now. As business comes in, be sure to use a part of your profits for ongoing marketing. Website development and optimization, Facebook and social media are important to budget for in the new year.
Our offer to you is to create and implement this template we described above for only $650 if you call before December 6. Call us at 805-451-4520 before December 6 and get your customized marketing plan template implemented within a time line that fits your business.
Pay before December 10, and we'll do it all for $600 (plus PR release submission costs). That's $800 less than our regular packaged prices.
Happy Holidays!