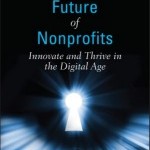 My interview on Wednesday, May 18, with Mr. David Neff and Mr. Randal Moss, authors of The Future of Nonprofits: Innovate and Thrive in the Digital Age, on my new online radio show Socially Conscious Investing confirmed much of my own perspective on the shift in business and specifically the way we communicate and form relationships. Innovation in the nonprofits is absolutely critical across the United States in response to this paradigm shift.
The book emphasizes that it is critical for organizations to change and evolve before society and their constituencies change in order to be supremely effective. Mr. Neff and Moss echo this in their interview, "Technology and social media have opened a range of scenarios for the future. Innovation is the key to unlocking the greatest potential for each scenario."
Just recently introduced, The Future of Nonprofits: Innovate and Thrive in the Digital Age describes how the process of change involves leveraging new ideas and finding new uses for old ideas. Authentic, durable economic gain results. Like Tom's Shoes, Google and other for-profit socially aware companies, innovative changes impact what David and Randy refer to as the "triple bottom line."
David and Randy describe the three pillars for success, Awareness, Staffing and Structure. These three pillars are key to developing innovation and addressing the socio-economic paradigm shift specifically impacting nonprofits. They give examples from various sizes and causes of nonprofits and compare socially responsible for-profit organizations.
Although written for nonprofits, it would be beneficial for all business to read this book. Blending old ways with new technologies thereby improving Return on Investment is a method that is useful for all businesses.
After working together at the American Cancer Society's Center for Innovation, David Neff and Randy Moss formed the partnership that resulted in this book. The book shares concepts and processes that are imperative for the continued success of nonprofits regardless of their size. In my opinion, each page of the book has a golden tidbit that, when carefully considered and applied, can significantly benefit any kind of business.
Two book signings are being held in Mason, Ohio near Cincinnati, at Barnes & Noble at 6 p.m. on May 19 and in Austin Texas at Book People at 7 p.m. on May 26. Randy will be in Mason and David in Austin to personally sign their book.
Listen in on Wednesday, May 18 through May 24. Tell your friends and associates about it. "Like" our Facebook page, and click on the discussion tab to join the discussion about the show. Subscribe to this blog to stay advised of shows ahead of time.
Each week, a new organization will be interviewed about how they are responsibly contributing to positive change in their communities and globally. Discover ethical investments, socially responsible funds, and how social responsibility in business is growing.