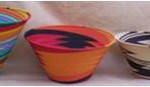 An international speaker and crisis communications professional, Mary Schnack, is interviewed on Socially Conscious Investing about Up From The Dust, a socially responsible business that supports women entrepreneurs internationally.
"Up From the Dust is my passion business," explains Mary, "because it supports women in business across the world who often represent the missing middle."
These women entrepreneurs have established small business with products that deserve to be distributed beyond the borders of the countries in which the women live. They are creative women who work hard, produce beautiful, quality products and are our "sisters" in business.
Mary's love for shopping was the original "seed" for Up From the Dust. While traveling for her consulting and speaking engagements around the world, Mary loved buying gifts for her friends at home. When her friends encouraged her to take the leap to becoming an importer, she decided to establish an e-commerce website as well as a home party business.
Some of the home parties have turned into fund raising benefits for local churches and other organizations according to Mary. Although there is very little mark-up in the products, and not enough to make anyone rich, Mary has designed her pricing to assure that women can not only feel really good about the beautiful products but can also feel good about helping our sisters in business and make a little money themselves or for their favorite organization.
The stories behind the product are as compelling as their beauty. The stories range from helping family members to preserving native culture and enriching the local economy to representing the fight against AIDS and the resulting loss of an entire generation in some African countries.
Often "green," many of the products are made from recycled materials like recycled paper and recycled telephone wire. Jewelry, baskets, table accessories, hot pads, purses, shawls, quilts made of hand-dyed fabrics, and much more are available for purchase through Up From the Dust.
These products are an all around "win." The women making the products benefit. The party hosts and the organizations benefit. The women purchasing the products enjoy their beauty and can feel good that they have contributed to helping other women around the world. Visit the Up From the Dust website to learn more and get your own home party and/or products.